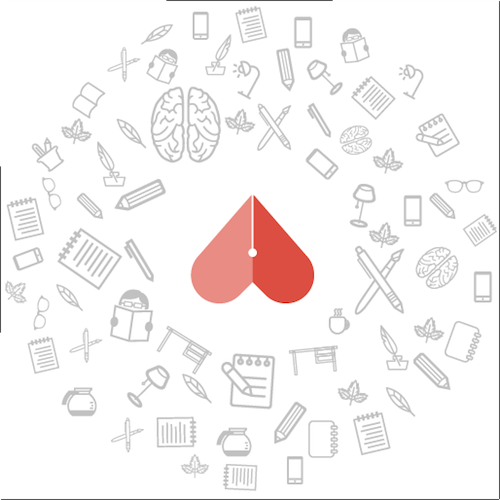 darknessisbliss

21h

"Feelings are dysfunctional, either wanting to break or cry rivers.."

//curated talks//

"It's a sin, to consume intoxicants"
Or rather a healthy workout
For despondent souls
Wandering in barren fields,
Feet having mind of their own
Chose a penetrating canopy
Made of poison ivy;
Deliberate hurting
And wrinkled dreams.
"It hurts though, becoming
A shell encasing tombstone"
Unable to retort sarcastically
I regressed, "life ain't a slut, but it fucks us all"
They always flinch
At the remorse sticking out
From invariably rotten parts
And again vanishing
To an unreachable distance,
"Don't worry, age is fragile"
How can you propose
Such a blithe hypothesis
Without concrete facts?
"I don't wish to live until 30,
Death obliged an invitation"
I will garner this mortality
In Ruby metallic, before they forget
Refusal is not the same as consent.

"The art fantasizes dark magic and heart seeks shelter in necromancy."

//girl with an umbrella//
"I'm afraid, if by offering her the aid, will I break the last thread?"

"This road never witnessed a home, cherished or cared for. So I let them turn me into a graveyard, where dead bodies stayed unlike Samaritans."

//distorted fairytale//

A fable so illusive
Where the prince is a vile being
Frustrated from hoarded responsibilities
He suffered from occasional seizures of existential crisis,

Princess was no different than him,
Known famously as a Chainsmoker
Shots of ADD flowing like an escaped prisoner,
Meth and Ecstacy meant one and the same
The kind of high even paradise patronised,

They met under odd circumstances
At a funeral service, where one mourned
And the other for the sake of fulfilling an obligation,
Eyes met for an unfortunate moment
Prince's were deluded with streaks of red
While hers held disgust and reflections of aftermath,

Both were tragedies, ruining every stabilized civility
They destructed themselves before hunting,
Lust was the only thing left, to be saturated
Henceforth, world knew a fairytale
Where disaster's came to be named after humans.

Parents

The thought comes to mind is that of an ideal mother and hard working dad.
It was same for me, until one day I had to bear the loss of one.

24th September, 2018.
At approx 11:45am mom arrived from a tiring journey of bus to Mumbai, her body was aching all over due to viral fever. Around 12:15am we admitted her into a nearby hospital, me along with Papa and Bhaiya. The policy didn't allowed any family member to stay back inside or around the vicinity. So we headed home to sleep, and arrive tomorrow morning with necessary supplies.

25th September, 2018.
//5:30am//
Me and my brother were sound asleep, and dad in the adjacent room snoring loudly. Yet after a point, we heard his irregular gasping for breaths, like he was choking on invisible air. We were scared and mother wasn't around to handle the situation well, every single moment of those 30 seconds that followed I wish, I could've done something to prevent a loss so heavy.

His body became stiff and face adopted dark purple shades till neck due to the efforts to survive. Neighbours tried to help, and when he took the final breath I voiced out my despair saying "Papa" one last time before it went silent. Dead silent.

//6:30am//
I knew in my heart the repercussions standing close to the future, my brother went to the first hospital nearby, in hopes to save him, but they already passed the verdict of death. The body was then taken to another hospital with facilities to prevent it from getting perished.

My mother was still uninformed, and clueless of what was happening. Me and Bhaiya waited for close relatives and others to arrive as we didn't have any idea how to proceed.

//9:30am//
I decided to visit mother along with neighboring aunties, so I can check up on her health, my brother was devastated and wasn't in any condition to face her. I took some breakfast along with me offered by some aunty, and told myself a lie so illicit, to recite the same without any defaults in it.

She questioned about Papa not being here, I repeated the rehearsed words, "he got fever too last night, he's sleeping still and will come later.." I made myself believe the lie and saved myself from feeling guilty.

It was decided, that the news will be delivered by elders to my mom, and so I waited for them to arrive. When they did arrived, I left the room because I didn't wanted to torture myself more by witnessing for what was to follow.

I entered again after few minutes, mother was silent with red in her eyes, she was in a daze, and couldn't comprehend the words correctly. I broke into tears, hugging her sides, my brother did too but her body and mind never uttered a response for another hour.

Far stretched lands of overgrown promises, covering the slightest sight of sanity. Purpose is a stranger, like a lonely wanderer in possession of a map but unable to comprehend the directions.

Fleeting moments are dust caught in sun rays, blatantly visible and existing only until sun radiates. I haven't known a preacher without being a devotee, and a mother not sacrificing hunger to let her kids have a full meal.

I've got many contexts but they all seem close relatives and somehow it's a cobweb of perceptions in my head. My silence pleads guilty to my thoughts, an unspoken bargain letting the biased heart win.

There's much more to say and I seem to be exhausted of speech, time sinks to the bottom of an abyss, leaving no room for conflicts. And I stay here pondering still, do I wait for the words to arrive or unearth the depths I've been trying to fill?

I dreamed of catching fireflies, but they dance like ripples in Sea. Too unpredictable and wavy. So I watch them dance, with forever in their wings and sparkle of Sunbeams to illuminate reality.

I don't know how to relate things, or maybe I've forgotten the traditional poetries. It sinks in but is never expressed, when everything is a metaphor in context to life.

I cripple and let myself get lost in the flow of anonymity. It's the uncertainty that aches and the conscious belief making tsunamis bearable, an assurance to steady breaths.

When thoughts step back surrending to logic, they jeer at their reflection, unable to stand the ugly. And I let words fill me in, a grapevine of imperfect rhymes and abandoned symphonies.